Part I – 7.24.13 Hayden's actual birthday!
I started the tradition of taking off birthdays with Hadleigh and it's something I always want to do. I wanted to go to the Children's Museum or a local park, but the girls
weren't
feeling 100%. They both were battling fevers, so we took them to the doctor twice (the first time the docs sent them home with a "virus"). Thursday, I took them again and they both had strep with Hayden having a double ear infection on top. Poor babies. So, we hung out at home and had quality time snuggling, reading, and playing with all of their toys. Daniel and I took Hayden to the toy store the weekend before her birthday to let her kind-of pick out her present. We wanted to get something she really gravitated to.
She loves it (and so does big sister). I still wanted to have dinner and cupcakes to celebrate, so both of our parents came over that evening. They gave the girls small gifts and Hayden opened another present we got her. She's starting school soon (wah!), so she needed her own backpack! It's so cute. Hayden
wasn't
too into the cupcake; she was more interested in the ice cream
J
Part II – 7.27.13 Hayden's Birthday Party
At first, I had big plans to do a bunch of decorating for her party, but then plans changed when we decided to do a very small party at a local park. We
didn't
want to have something at the house because it becomes so much work for me and Daniel. Maymont Park ended up being such a great location for the party. It's a free local park, so we set up a little picnic as our party area. The weather ended up being perfect. It was a laid back afternoon where the kids could all run around and have fun looking at the animals. Hayden had fun eating the food – she's a foodie for sure! She liked playing with her toys, especially her new chair, and looking at the animals.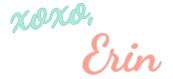 Linking up to Wildcard Wednesdays